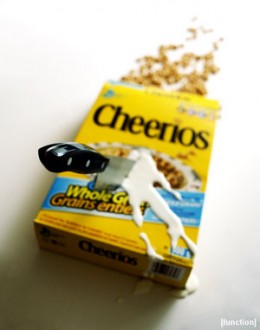 Costume would consist of a box of Froot Loops Cereal with a huge knife driven through the middle of the box. Then take red jello mix and make it all thick and sticky and put on the knife and around the knife where it cuts through the box.

Then go outside and have a friend splatter the thick red jello mix from an under-handed flick for the proper 'blood' splatter pattern onto my white t-shirt & face for all those CSI fans out there.

And then - before the thick jello mix dries up stick little Froot loops onto face, shirt and cereal box as 'guts' where the 'blood splattered.