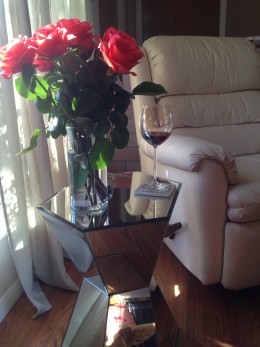 I've done that. I purchased a full Thanksgiving meal from a local store that specializes in quality meats. On the day of Thanksgiving, I watched the Macy's parade, to get in the holiday mood, The coffee was brewing...
Afterward, I listened to music on my Bose for two hours, while I watched the leaves fall from the tree, through my big picture window. As I did so, I sipped a mimosa. Next I wrapped Christmas presents and assembled the base of my Xmas tree. Meanwhile, the music is still playing on Pandora.
I then set the oven to 350 to warm the delicious meal. At 2:30ish, I open the Pinot Noir and relax as I wait for my meal. I enjoy the aroma of the turkey, the sweet potato casserole....Yum.
I pour myself a glass of wine, relax, and feel thankful.
When the meal is ready, I dig in and love every bite.
I had a lovely thanksgiving, and so can you. Just think outside the box and you will do fine, probably better than fine! Happy Thanksgiving!
P.S. The picture above is from that Thanksgiving Day.