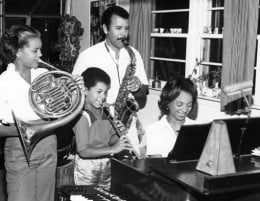 Being in-between socioeconomically. One can say the socioeconomic grays. Being THE BACKBONE, even UNSUNG HEROES/HEROINES of the American economy. Stimulators of the American economy, making it the powerhouse it IS. Bearing the brunt of the fiscal responsibilities, such as taxes. Some subcultures & sectors therein constantly worrying about the rising cost & changing standard of living.

Some being disfranchised, even losing their social status while others are becoming even more affluent. The coming & inevitable disappearing socioeconomic group to be absorbed by other socioeconomic groups, depending upon one's respective educational & work background. The "IN' thing TO BE in the 1950s & 1960s.

It is associated with solid, upstanding values. It denotes a strong, even fierce work ethic. It means a moderate lifestyle between lack & excess. It is the average Joe/Josephina who are successful but are viewed as "regular, everyday" people.