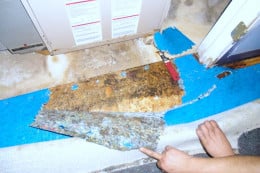 It's been a while since you posted this question, but hopefully my answer will help people like you to select the correct course of actions in situation like yours.

1) First of all, if you are going to buy a new house, its always a good idea to hire a home inspector who is a CMI (Certified Mold Inspector) as well.

2) If the house had a known history of mold contamination which was remediated by a CMRC (Certified Mold Remediation Contractor) company, there should be a lot of documentations, protocols, certifications and written warranties to go along with procedures. Request those documents - they will describe exactly where was the mold found and eliminated in your house.

3) If you suspect mold presence, there are few things you can do in order to try to discover the hidden mold:

In order for mold to appear, next conditions has to be met:

> Prolonged exposure to excessive moisture/humidity (Floods, leaks, etc)
> A source of organic material for mold to grow on
> Supply of Oxygen
> Optimal temperature


Think of the spots were these conditions could happen at once.
Usually such places are:


a) Bathrooms
b) Kitchens
c) Laundry rooms
b) Basements
d) Attics


Next, after you narrowed it down, proceed to closer examining of these areas:


a) Check under and around the sinks, water heaters, plumbing pipes
b) Check around and behind bathroom tiles, windows
c) Check under the carpeting/flooring
b) Check behind the cabinets and in hard to reach spots


4) In your particular situation it would make sense to hire a professional mold inspector:

a) They will check the mold spore count by taking Air Samples
b) They will will be able to detect hidden mold behind the walls without breaking them by using advance infrared cameras
c) They will take a Swab Samples in cases where visible mold is present
d) They will protocol all their findings and will make a custom-tailored Mold Remediation Protocol for your particular situation


Hope this will help! And I hope that you were able to resolve your problem successfully.