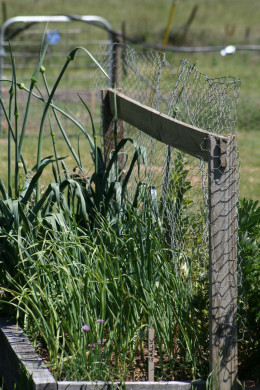 I use this type of structure to support tomato and cherry tomato plants (in the right season, lol.) You could make one that runs beyond your plant - and tie the plant along it.

Lots of people say to support tomatoes on lengths of wire between stakes, but I find it damages the plant - so I use chicken wire and make sure there's a cross beam to hold up the weight.

Your other option is to create an arch coming out into your yard area. Tomatoes grow just fine at an angle ... they'll even grow along the ground, and set new roots if you let them ... but then they are very difficult to pick, and risk rotting on the ground depending on the weather. They need fresh air to stay healthiest.

The frame in this picture is one I use for peas or beans. My tomato frames are taller but I can't be bothered walking through my winter weather right now to take a photo of it. Same, but taller wooden posts, and the wire netting starts higher from the ground.

As someone already said, when you tie them on, use soft ties. Strips of fabric, for instance. After that, you can just tuck the ends back and forward through the chicken wire.

You could lean your frame against the side of the house ... and have the main length away from your window.

Make your frame bigger than you expect to need, because nature in action always provides surprises.