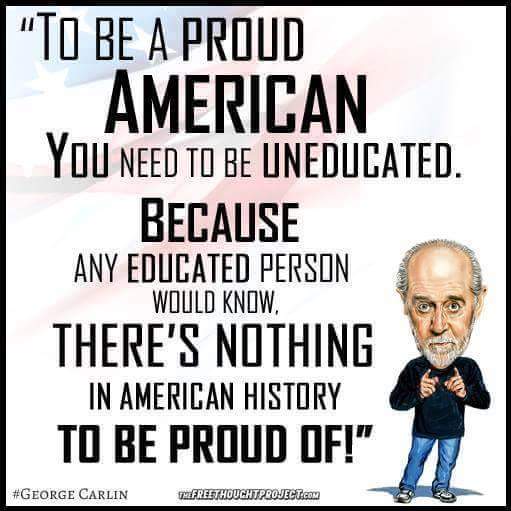 You like to suggest that I am living in the past. But it is white Americans who created "Columbus Day". I did not petition for a holiday honoring a rapist, a murderer, and a thief. You should level your criticism at those who bring this abomination to our attention each and every year; at those who honor an evil past with parades and celebration. They do not only live in the evil past, but they glorify it.

Many racists use the poverty that exists among some native people as a means to promote a false narrative. This is a common racist tactic that plays well at the local Billy Bob tavern, but the superior intellect knows better. Being poor is not a crime, and exploiting the misfortune of others as a means of furthering a racist agenda is shameful, to say the least.

The legacy of Columbus is alive and well throughout America. Most notably we see it recently manifested at Standing Rock, as the progeny of evil brought in their dogs to attack the people protesting the encroachment of big oil. Columbus used dogs to hunt and kill the Indigenous, and it was a great sport for the evil Europeans to watch human beings, even pregnant mothers, being ripped apart by the vicious dogs. In spite of the fact that you would like to promote the fiction that the only poor people living in the United States are Indigenous and Black, the facts tell us a different story:

According to the 2010 U.S. Census (the last census year), the five poorest counties in the country are all at least 95 percent white.The nation's poorest county — Owsley, Kentucky — is more than 98 percent white. In 2014, National Review's Kevin Williams made Owsley the subject of a piece titled "The Big White Ghetto." "If the people here were not 98.5 percent white, we'd call it a reservation," Williams wrote. Owsley is only 0.5 percent black. The nation's second poorest county, Lee, Kentucky, is 95 percent white. Lee is just two percent black and one percent Hispanic.

Four of the five poorest counties in America are in Kentucky. Generally speaking, the rural parts of Kentucky tend to be both white and very poor. In 2014, The New York Times named the ten hardest counties to live in America. Six of them are in eastern Kentucky. Clay County — which isn't even one of the five poorest counties — was named the hardest place to live in America. Clay's population is 94 percent white. Kentucky Sen. Rand Paul has called for massive tax reductions in Kentucky's poorer counties to jumpstart the local economy. The nation's fourth poorest county — Brooks, Texas — is 96 percent white.


Concerning drug addiction, the facts tell us that drug addiction among whites has become epidemic. The New York Times recently reported:

"When the nation's long-running war against drugs was defined by the crack epidemic and based in poor, predominantly black urban areas, the public response was defined by zero tolerance and stiff prison sentences. But today's heroin crisis is different. While heroin use has climbed among all demographic groups, it has skyrocketed among whites; nearly 90 percent of those who tried heroin for the first time in the last decade were white.

" ...Last week, President Obama traveled to West Virginia, a mostly white state with high levels of overdoses, to discuss his $133 million proposal to expand access for drug treatment and prevention programs..."

"... Heroin's spread into the suburbs and small towns grew out of an earlier wave of addiction to prescription painkillers; together the two trends are ravaging the country...".

"...Deaths from heroin rose to 8,260 in 2013, quadrupling since 2000 and aggravating what some were already calling the worst drug overdose epidemic in United States history..."


"...Some black scholars said they welcomed the shift, while expressing frustration that earlier calls by African-Americans for a more empathetic approach were largely ignored..."

"...This new turn to a more compassionate view of those addicted to heroin is welcome," said Kimberlé Williams Crenshaw, who specializes in racial issues at Columbia and U.C.L.A. law schools. "But," she added, "one cannot help notice that had this compassion existed for African-Americans caught up in addiction and the behaviors it produces, the devastating impact of mass incarceration upon entire communities would never have happened..."

My advice to anyone who longs for the glory days of the war criminal Harry Truman, Archie Bunker, and Bull Connor: Get on your horse and ride! And if you don't have a horse ... run...run as fast as you can!