When all that hateful organized energy should be spent in Tulsa, has instead been spent in Charlotte...something stinks! Officials of Charlotte said that 70% of the rioters / protesters that were arrested had out of state IDs. That, they were bused in or came in by train.

George Soros' name is written all over Ferguson...now Charlotte.

This eye witness says people think the black man was shot by cops, but that he knows for a fact that he wasn't, because he was standing 10' away from him. He hopes people get to see the video that shows what happened...I haven't seen it yet. There is an investigation, the truth will come out, we just have to be patient and not jump to conclusions.
* https://www.youtube.com/watch?v=9089lYV5c0Y

George Soros name is written all over the Charlotte riots just like Ferguson. BTW, he is a big donor of Hillary Clinton's.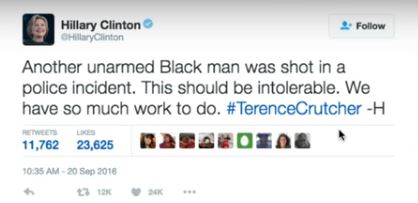 Hillary blew the dog whistle and made it a race war.
I guess she needed to politicize the shooting before the facts.

Now, there are a lot more black people mostly from poor inner cities who have arrest records, and one protester dead after being shot by another protester. Oh, but the media doesn't talk about that, and Hillary went silent. ... And, its still not over in Charlotte.

No riots in Tulsa? Only peaceful protests, because no one called out the hounds of hell (adjudicators, anarchists, social justice warriors).