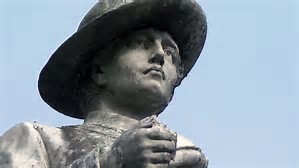 This statue of a Confederate Soldier has stood in Orlando, Florida for 100 years. It was placed in an Orlando City Park in 1911.
After the Church shooting in Charleston, SC and after the Pulse Nightclub shooting in Orlando, calls and petitions for removal of the statue began.
Today, it is on the fast-track for removal, because an Activist wants it removed before the Anniversary of the Pulse shooting.
As if one has anything to do with the other, but this man has convinced a City that it does and that it should be removed.

If the removal of this Monument or the removal of any other Historic Statue/Monument/Memorial would prevent another Terrorist Act or could change evil-filled hearts, preventing another senseless, horrible, heinous Act from ever occurring again, I'd be the first to say, "By All means, remove it."

Thoughts?