Did you complain and mark my post?
If not then: Being offended without taking action does nothing to make the world a better place

If did complain -and my post is still up? Then, instead of realizing that there is even a small percentage of a chance that you might be hypercritical - resort to condemning the entire HP for dereliction of duty.

Perhaps I'm wrong and I need guidance. I'm looking at the TOS right now. I don't see what you are talking about.

Harass, threaten or intimidate? Nope. Sorry, but it's your fault if you're offended all the time.

Fountain of Eternal Indignation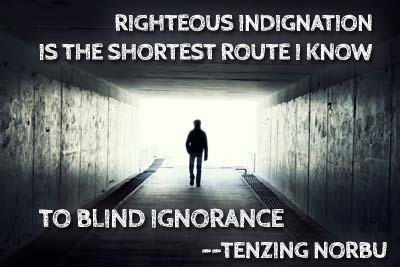 Go ahead mark my posts as being against TOS. I'm sure you already have. Your unnecessary censoring to suppress non-violent views so that nobody can disagree with your false sense of omnipotence is ineffective.



Ok, I need to get this clarified. Is it against ToS to call someone bigoted, racist, etc? It seems falls under the category of insulting someone. If so, can we please put that up in the ToS?

From another forum:
The ToS already states no personal insults. To call someone a bigot, is aiming a negative statement at a person and their character, which constitutes a personal insult. Which may or may not be true, but personal insults have never been judged on whether or not they are true.

However, if you are to say "What you just said comes off as very racist" or otherwise aiming the negative at the statement, it is a criticism of something the user said, rather than applying a negative to the user themselves.