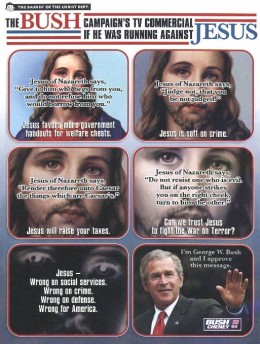 I have a question for ercramer36,

Wasn't it Jesus who said in Matthew 19:21 "... give to the poor"?

Yes it would be better to teach than give but that didn't mean don't give a man water when he is thirsty or no coat when he is cold.

The picture is a little small but this is what it says in part:

Jesus of Nazareth says, "Give to him who begs from you, and do not refuse him who would borrow from you" - !Jesus favors more government handouts for welfare cheats!

Jesus of Nazareth says, "Judge not, that you be not judged." - !Jesus is soft on crime!

Jesus of Nazareth says, "Render therefore unto Caesar the things which are Caesar's - !Jesus will raise your taxes!

Jesus - wrong on social services, wrong on crime, wrong for defense, wrong for America.