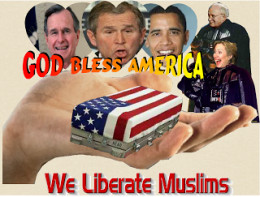 "Does Obama own the coming Iraqi Islamic Republic?"
Actually yes and no.
Did Obama say the war in Iraq was a victory for the United States military? I can't find a quote by him saying those words (maybe I missed it in my Google search?) but I did find that what he did say was this
"Barack Obama, the US president, yesterday said the withdrawal is a victory for his administration and the fulfilment of a promise to end the war."
A victory for his administration, meaning he did what he promised ending the war, not a military war victory over our enemies.
Leaving semantics, for what its worth, aside, Obama's zeal to fulfill his promise (which was never promised to be a victory, merely and end to the war) is akin to dropping the baton in a relay race, the relay race to win the war in Iraq and so to that extent he owns it.
But real ownership lies with the relay team's coach and his staff, that being George Bush, Cheney, Rumsfeld etc.
These guys entered America into a race knowing they wouldn't be there for the second, third and fourth leg of the race. Bush ran the first leg and managed to pull ahead with a surge but when it came to passing the baton, well they never planned for who would run the rest of the race.
My point is Bush (and his administration) started a war, sacrificed our boys, for a war they had no way of knowing how it would turn out, how long it would take and who would be running it after they were gone.
Iraq didn't need boots on the ground - the problem there was the leadership. All that had to be done was take Saddam out with missiles or drones and continue to do so until the country installed the government we want. There was no reason to sacrifice our men for the likes of barbarians which these Iraqi's running Iraq were. Especially when, knowing the mentality of the politics here in the US gave no assurances that our leadership in coming years would be competent enough to follow through and obtain a true and lasting victory.
Yes, I blame Bush, not for Obama's failures but for not having the foresight to know that WE can be defeated not only by the enemy but by our own politicians. The sad thing is these administrations are enjoying life to the fullest while patriots are 6 ft under or handicapped for life, not able to get medical assistance needlessly and now those left alive and their families will not even have the satisfaction that what they were sacrificed for will last another day.