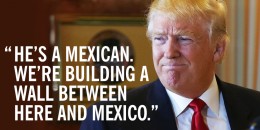 To start with from what I've heard and seen of the media, radio, TV, and newspapers no one is flipping out over Trump accusing a judge of bias but they are flipping out over the (racist according to them) way he did it, calling an American judge (of Mexican decent) a Mexican which is all the lame stream, drive by, liberal media needs to twist what he said from an accusation of a judge being biased (actually based on his decisions on Trump's case and his associations with activist pro amnesty immigration organizations, not his race) to Trump being the racist they all have been dying to paint him as ever since he brought up the topic of illegal immigration.

It is sad that Trump is so mealy mouthed that he can't resist throwing red meat to the media because, although he has to now, he won't get away with doing that forever. Eventually. there will be "the straw that breaks the camel's back" and the media knows it and if it takes them raising straw man after straw man in covering him to find the straw that breaks the camel's back they will do it, you can count on that.

So even if you disagree with what I just said, you shouldn't be surprised that there is a double standard when it comes to anyone who is a threat to the establishment politicians, be they Republican or Democrat, and of course the media, the author of double standards, journalism in America is DEAD.