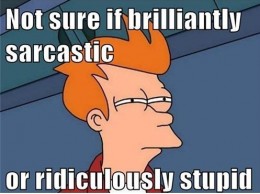 Donald Trump said he was being "sarcastic" when he said he hopes Russia will find Hillary Clinton's deleted emails from her years as secretary of state.

mm, Can anybody tell me who saw the video of Trump if he was really being sarcastic? Was there overly positive or negative language? Intense verbs, adjectives and adverbs? Was there lifted eyebrows, rolling eyes and smirking mouth? Elongated words with a nasal tone?

When someone's being sarcastic, sometimes it's the tone, rather than the words, that let you know.

So let me know if you think from the video if you thought at the time he was being sarcastic. Thanks!