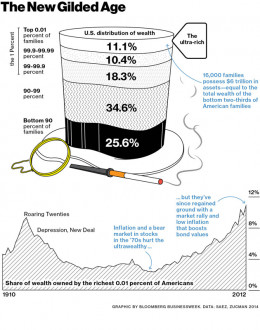 Warren Buffet makes business decisions that benefit him. So, after a lifetime of benefits for himself, one can hardly believe that his support of Hillary is for the benefit of the country. Buffet doesn't even favor his family, as opposed to say the Waltons who share their wealth among the family.

The question should be broaden to ask why so many wealthy foreign and domestic people and businesses are backing Clinton. These people don't care about the middle class, except to take advantage of them.

The Internal Revenue Code cannot be used by the middle class, and the poor don't pay taxes. So while the ostensible view is that the rich pay more taxes because of their higher marginal tax rate, what is not viewed is the deferment, the credits, the exclusions and other tax avoidance the are available to the rich through the Internal Revenue Code.

While they pay a lot, what is missed is how much they have made. Since 2008 Buffett and Gates has significantly increased their fortunes.

The real problem is the discriminatory effect from the federal income tax. It doesn't discriminate against the rich, it doesn't discriminate against the poor. But its total discrimination is against the middle class.

The middle class had most of their useful tax deductions taken away from them by the 1986 Tax Reform Act.

Again, Warrent Buffett does what he does for himself.