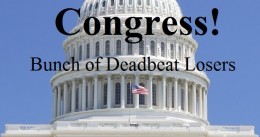 He lied to congress? Well what did congress do about that? NOTHING.

General perjury comes with a maximum five-year prison sentence and potential fine. The same basically goes for not telling the truth to Congress, even without an oath.

Did you hear what Comey said when House Oversight and Government Reform Committee Chairman Jason Chaffetz asked him if Hillary lied to congress?

Comey said the reason an investigation had not been opened yet about Hillary's lies to congress was that, "out of respect for the legislative branch being a separate branch, we do not commence investigations that focus on activities before Congress without Congress asking us to get involved."

So nobody in congress knew this?

Despite the fact that Republicans repeatedly alleged that Hillary Clinton lied under oath during a committee hearing NO MEMBER OF CONGRESS ever referred her lying to Congress to the FBI? I find that mind boggling! What the H is congress doing? She lied but they won't do a thing about it?

I have to deduce that they never did a thing about IRS Commissioner Koskinen lying to congress either. What freaking good are investigations or house oversight committees if they routinely are content to allow the people they are questioning to lie to congress with impunity?

That is the problem, none of our elected officials even care to do their job if it means turning in one of their own government lackeys! There is no excuse for this, If our elected representatives are so stupid as to not even know the procedure to have the FBI investigate lying to congress THEY SHOULD ALL BE IMPEACHED. There is just no excuse! As I've read someone else say before on hub pages, we have a banana republic government, how long before the country becomes a banana republic?