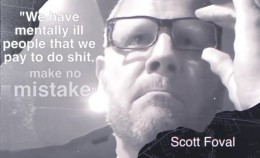 Scott Foval, the National Field Director of Americans United for Change--who can be seen in a video bragging about paying homeless and mentally ill individuals to cause disruptions at political events. He has been fired from the organization. (probably will be given a job in the Hillary campaign like Deplorable Debbie Wasserman Schultz after she left the DNC in embarrassment).

In the undercover video, Foval admits to coordinating dirty tricks including what is known as "birddogging", or infiltrating Trump campaign events in order to incite anarchy and violence.
To answer the rest of your question watch the video.
https://www.youtube.com/watch?v=5IuJGHuIkzY more to come.