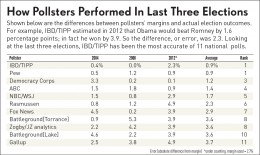 I and everyone I know has never been contacted because I've asked people for years.

The ABC poll is being touted on the news this morning and it says Clinton leads Trump by 12 percentage points among likely voters, 50 to 38 percent, in the national survey,

This is a perfect example of how the media polls are being rigged to support Hillary. The liberal media spin – and many of the polls – are giving many the impression that Hillary Clinton has already been elected president!

But the IBD/TIPP tracking poll, THE MOST ACCURATE NATIONAL POLL DURING THE 2012 ELECTION, shows the race between Trump and Hillary is a dead heat – they are TIED! http://www.investors.com/politics/trump … tipp-poll/

Rasmussen is showing that too – as does the Los Angeles Times tracking poll.

Don't believe the media polls like ABC news, they are in the tank for Hillary and need to have you believe she has already won. The reason the ABC News poll is so off is because the media has trumped up so many decades old accusations against Donald they have to make it appear that those accusations are having an effect. A clue the ABC poll is BS, the poll says 71 percent of women disapprove of his handling of questions about his treatment of women, so do 67 percent of men. That means if you average the two roughly 70% of those polled disapprove of his handling of women but despite that just over 10% of that 70% are still voting for him? That doesn't make sense to me. If true then Hillary should be up 58 to 38 or 20 points

Don't believe the media.