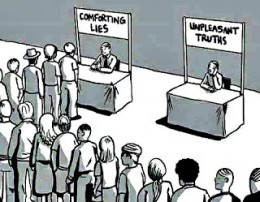 Speak of con men, Bloomberg was a Democrat. He switched to Republican solely to win the election for Mayor of NYC. Now he's what? Back with the Democrats? Oh, no ! He's not a con man. His message should have been (and really is) instead of "I'm a New Yorker and recognize a con man," I'm a con man so I know one when I see him!

All those who support Hillary are liars, con men and deceivers exactly like her, that's why they are willing to support her. This is no secret! Throw in the lying, corrupt media and the Cabal is complete. the Democrat Cabal, anti God, anti morals, anti constitution, anti America and pure globalist serving the God of this world, SATAN.

All this we know, it is not disputable. Trump a con-man? This we don't know. What evidence there is could be called circumstantial and as far as how he will govern, only unproven accusations. Prove he is a con man with respect to the presidency? There is only one way to prove that...elect him. What do we have to lose? Either elect a known, proven liar and pathetic con woman (pathetic at coning people) or take a chance on an unknown who says he wants to make America great again and give him the chance to prove it.

I don't know about anyone else but it seems to me this is a far better chance than the one America took in 2008 only to discover they elected a black con man and leader of the Democrat cabal. Many can say "I told you so" about Barack Obama, I'd like to see how many will being saying the same thing after a Trump Presidency.