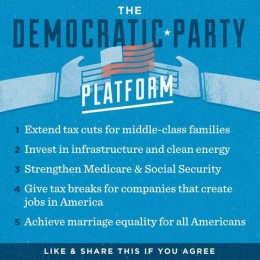 I would imagine for most liberals she'd have to abandon the Democrat's party platform: ie switch from pro-choice to pro-life, be against raising the minimum wage, repeal Obamacare instead of fixing it, abandon restructuring of college loans, be against raising taxes on the top 1%, abandon commonsense gun measures such as if you're on the "no fly" list you shouldn't be allowed to purchase a gun, be against instituting a realistic immigration policy, and announce she's no longer in favor of marriage equality and equal pay for women, or maintaining Social Security/Medicare as is....etc
The bottom line is neither candidate is in danger of losing their base voters! As Trump stated he could shoot someone and not lose voters.
Most people (vote for a party platform) regardless of who is the candidate. Rarely if ever do Republicans vote Democrat or vice versa. The party's are so different when it comes addressing issues.
None of Hillary's issues have anything to do with her party's platform.