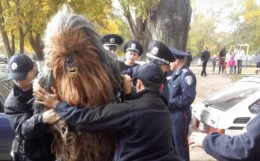 Did you see this? Chewbacca was recently arrested in Odessa, Ukraine, for driving Darth Vader to the polls in the US.

Supposedly if you can believe Politico Ukraine officials were worried that their relationship with the US could change under Trump, whose team Politico says has privately expressed sentiments ranging from ambivalence to deep skepticism (politico's interpretation) about Poroshenko's regime, while sounding unusually friendly notes about Putin's regime (politico's interpretation).

But despite Politico's "research" Poroshenko's administration, along with the Ukrainian Embassy in Washington, insists that Ukraine stayed neutral in the race. Don't fool yourself into thinking the US hasn't interfered in elections in foreign countries, even allies like Israel.

Bottom line is who cares. Russia and/or Ukraine, we live in a new and evolving world where such interference can be a good thing. It can scare political operatives, parties and campaigns into becoming squeaky clean and honest in everything they say and do because who knows what new technology will reveal their own lies, behind the scene cohorting with media to deceive and manipulate the electorate.

It could just make parties like the liberal democrat party of today extinct because as we have witnessed first hand they can't succeed even in their own primary without dirty tactics and behind the scenes cheating and manipulation. Extinct because without dishonesty, the core of their ideology, they have no policies to offer that anyone would desire. Don't listen to them, look at the results of any liberal policy that has ever been implemented.

Liberals have no answer for the truth, the facts that I am sharing about them and their ideology, except to try to paint me and anyone who points these things out as mean spirited, intolerable, racist, making ad hominem attacks, whatever they can conjure up...except the truth which is that I am telling it like it is and somebody has to. PERIOD.