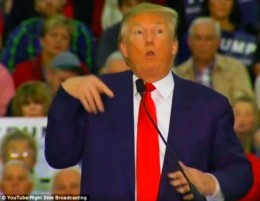 I think we all can agree that the "SENSE of Urgency" to REMOVE Deranged Mr. Trump before he "Recklessly & Maniacally PRODs" Kim Jung Un into a Nuclear Holocaust, is at "FEVER Pitch" ~ Another hopeful example of the "Forces of GOOD Neutralizing Trump's EVIL" ~

Moreover, we ALL understand that Mr. Trump, Comrade to Russia, is a "REMOVED Pseudo-Pres WALKING", or in his case, Manically RAGING, Whining, SOBBING, Lying, Obstructing & Moronically Tweeting his time away with his tiny little petite digits while N.Korean Military Minds "Orchestrate & Plan" a Nuclear FIRST Strike ~

But of course I think we also realize that this incredibly disturbing psychopathic behavior won't stop him & his COMPLICIT Republican Cohorts, some of whom will probably end Up in prison themselves, from trying to PILLAGE Americans before he's removed by implementing a "GRAND Corporate WELFARE Tax Cut Scam" ~ A Gargantuan "GIFT" to Mr. Trump & his ELITIST Buddies which will inevitably TRIGGER a "Pandemic or POVERTY' driving many of his OWN Poor Gullible Trumpeteers, into severe financial hardship & perhaps even death ~

With a Straight FACE, can anyone honestly explain how giving 10 BILLION MORE of Our Dollars to the Walton Family or the Koch Brothers or WEIRDO Steve Mnuchin, all of whom are already HOARDING approximately 200 BILLION Dollars of OUR Wealth, will somehow benefit the working man in Ohio or Wisconsin or Florida???? Don't U think the wise and prudent course would be to pass legislation to FORCE them to SHARE what they already have before unlawfully giving them even MORE of OUR Money??