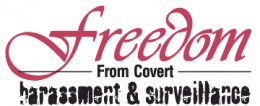 OK, it would be just like when Weinstein set out to suppress allegations that he had sexually harassed or assaulted numerous women. He began to hire private security agencies to collect information on the women and the journalists trying to expose the allegations.

Only it would be the POTUS using blackmail on political enemies. If in place today, it would be used to discredit and gang stalk Roy Moore's accusers today.

Trump has now denied , even after saying he's sorry that he said the 'grab pussy' remark, and now he's saying that he never said it! This is a second attack on his victims. Now imagine those victims being gang stalked.

And why don't women report sexual assault to the police? They many fear reprisals from the offender or other loved ones, particularly when the offender is known to them. They may feel ashamed, internalizing the culture of victim blaming in our society. And many — often correctly — believe the police won't be able to help.

All manner of nefarious tactics are used to intimidate, control and ultimately ruin the black-listed victim.

This Blackwater/Xe/Academi has no scruples and could've been already hired out by wealthy sex predators looking for the next victim.