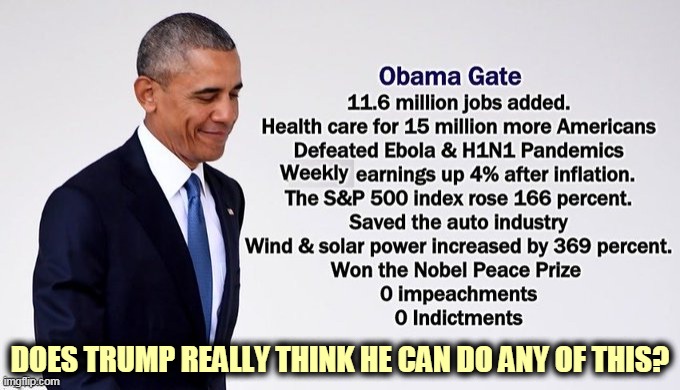 Trump promised a new Healthcare Plan with "much better coverage at a tiny fraction of the cost." He failed.

He promised a $1 Trillion Dollar Infrastructure Plan that would create millions of American jobs. He failed.

He promised a 30' high concrete wall the entire length of our Southern Border that Mexico would pay for. But the check didn't come and the wall isn't built.

He promised to cut our National Debt, but instead he's on pace to add over $7 Trillion Dollars to our National Debt in just one term.

Trump said he wouldn't have time to play golf if elected, because he'd be too busy working. But in reality, Trump has spend 144 years worth of Presidential salary playing golf and visiting Trump properties, with all that tax payer money ending up in his own pockets.

He promised to revitalize the Coal Industry and create more jobs than ever. But since he took office, over 70% of the largest Coal companies have filed for Bankruptcy and closed down.

He promised his tariffs would bring back the American Steel Industry. but instead tens of thousand of steel workers have lost their jobs and plants have been closed down all over the country. US Steel's stock price is down 90%.

He promised a giant "Middle Class" tax cut, but instead borrowed $1.5 Trillion dollars and took $560 Million Dollars out of Medicare and then gave 83% of that money to Corporations, the wealthiest 1500 families in America, Real Estate Developers and the owners of private planes.

Do you think it was just a coincidence that Trump owns a Corporation, has one of the 1500 wealthiest families in America, is a Real Estate Developer and owns a private plane?

So what did the middle class get out of Trumps "Middle Class" tax cut?

The Bill for $1.5 Trillion Dollars, plus Interest and a future cut in their Medicare that they already paid for.

And as an added bonus, the tax cuts of the corporations, the wealthy, the Real Estate Developers and the owners of private planes is permanent through 2025, only the middle class can have their taxes raised to pay for the covid-19 relief package.

As with every other Republican Administration in the modern era of American politics, the Trump Administration will rule over a Recession and run up our National Debt. Remember, only Democratic Administrations in the modern era have had Balanced Budgets, cut the annual Deficit and had a Government Surplus.

Basic Economics shows us that like most Republican Administrations, under the Trump Administration, Republican policies do you no good unless you make over $306,000.00 a year.

If you make less than $306,000.00 a year, you're either a Democrat or just a Useful Idiot.