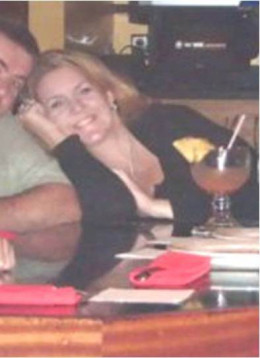 This is an excellent question. I truly believe I love my wife because of a series of intensified love-periods followed by sacrificial-periods over time; more or less like a rollercoaster ride.
I first loved my Better Half before we were married, before I even knew much about her, just as I met her on a beach 1400 miles from where I resided and about 120 miles from where she brought vivid color and emotion to her neighborhood. There was something striking about her beyond her hotness that is, was it her smile, no I think it was in her blue eyes..., was there a force from beyond us acting as a matchmaker? I really have no idea. Yet the attraction was significant, tangible and I was better for it.
This continued through thick or thin and when we were 1400 miles apart it intensified even more, that is when we went to different universities in different countries. You see we were thinking about each other, making sacrifices for each other, and our love was becoming a significant force. After university (bachelors level) we decided to marry via the Sacrament of Marriage and begin the path to oneness. We had no doubt and knew it was meant to be.
Less than one year after marriage my love became deathly sick with enterocolitis. She was intensive care for 2 weeks and was given 6 pints of blood after flying via chopper in -30 F degree weather. Yet our love intensified and so did the sacrifices. I was working night shift through the winter and I did not want anything to happen to Kate, so I arranged for her homecoming in January to the Sunshine State to convalesce at her parents' house on Pearl Lake near Mickey Mouse Town. We were married and living in separate countries again and our love intensified once again. next came the sacrifice, I abandoned a career, country, family, friends and way of life, ice hockey (well I thought I did) that I truly loved not because I was forced to by someone else but because of love. I emigrated from Canada to the United States. I found a new career quickly and even began to play hockey again in the Deep South and our love had grown. Soon there would be a baby, oh what a baby, our love intensified and the sacrifices by both of us were many. Mine were comical compared to my Better Half, I lost my jet ski and SCUBA life while Kate lost part of her body and career. Yet our love intensified. Next came Graduate School to become a psychologist... Later I was comatose for a month and awakened to see my Better Half screaming, John's back.