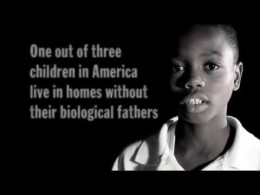 1. People believe what they want to believe
2. People often see life through their own prism/limited life experience.
Maybe he only goes by the people he actually knows and doesn't trust the media, statistics, or others whom he feels has an "agenda".
A father may be absent for many reasons from abandonment, incarceration, drug/alcohol addiction, homeless, unaware he even has a child, or the mother doesn't want him around her or the child.
According to the law only the woman has a right to (choose).
No man can legally force a woman to carry his child to term.
A woman has the final say on whether a man becomes a father.
Hopefully for all concerned both the man and woman would take parenthood seriously. Some men feel if they make child support payments then they're "doing their part".
Other men feel if they have issues with the mother they don't want to have anything to do with "her children".
It pays to choose mates/spouses wisely for co-parenting.