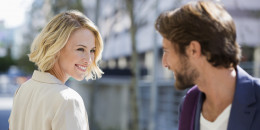 It depends on what is "too comfortable".
There's a thin line between being "comfortable" and "taking someone for granted".
Oftentimes in marriages and long-term relationships people STOP doing all the things that won their mate's heart!
They're under the belief that "commitment" means someone is never going to leave you. When we change our circumstances change.
We treat "the new" better than the "tried and true".
This not only happens in relationships/marriages but also with new cars, new jobs, furniture, or whatever. The longer we have anything the less effort we tend to put in to keep it at it's optimum.
If for example a wife stops having sex with her husband, is no longer supportive, and only complains without ever complementing him he may not consider those things to be a "deal breaker".
At least not in the sense that it makes him want to run down to the courthouse file for divorce, move out of his home into a one bedroom apartment, pay child support and possibly alimony, become a weekend dad, and divide up friends and family as they choose sides.
However he may be open to being in the company of a woman who makes him feel "special", flirts with him, sexually desires him, & compliments him.
Most cheaters aren't looking to replace one relationship with another.
Their goal is to hold onto all that is "good" in their primary relationship while addressing their other "needs" on the side whatever those may be.
Essentially they cheat in order to STAY or tolerate exiting relationships. If they simply wanted out they always had the option to file for divorce.
Although cheating oftentimes leads to divorce most cheaters don't believe they will be caught!
In their mind cheating is the less expensive option of getting everything they want by complimenting what they already have.
When someone promises to "forsake all others" they do so with the understanding they won't (need any others) because they have someone who is "committed" to addressing their needs.
So called "discontented cheaters" are those who blame their mates/spouse for causing them to feel the need to look outside of their relationship in order to feel "special" again.