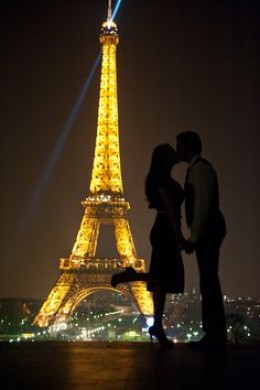 It really depends on an individual's beliefs about love & romance.
Everyone has their own idea of what love is suppose to look and feel like. For some people showering one with flowers, candy, jewels, clothing, trips, and surprises are all part of "being in love".
If that is the individual's perception of what people do when they are in love then it's only natural for them to feel loved when someone does it for them. Everyone has their own love "litmus test"
"If you loved me you would...etc" or "When people are in love...etc"
Generally speaking falling in love is an "evolutionary process". One meets another, exchange contact information, begin a dialogue, decide to go out and spend time together, evaluate traits and the character of each other, their compatibility, sense of humor, along with acts of kindness all come into play.
It's normal over the course of any courtship that some gifts are exchanged. Just because one is in a position to offer more than another doesn't make their love any less genuine for their mate.
There's a stereotype that rich or successful people are incapable of love and therefore their acts of generosity towards their mate is always to be looked at as an attempt to "buy love". And yet those who are poor often tell their mates:
"If I could give you the moon and stars I would!"
Lets not "hate on those" who can actually do so.
Being poor is not a "prerequisite" for being able to (truly love).
Ultimately we fall in love with people who love us in the way we want to be loved. Therefore love is in the eye of the beholder.