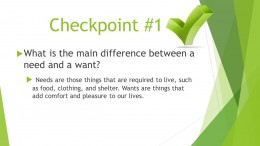 Dating, relationships, and marriage are all (choices)!
These are things many people (want) but they're not "needs".
There are basically only 5 "needs" required to survive.
1. Air
2. Water
3. Food
4. Shelter
5. Clothing
Every other thing is a "would be nice to have" or a want/desire.
Essentially you could live without wants but you believe the "quality" of your life would be (happier) if you had them.
Note: Some men (want) other men; or women want other women.