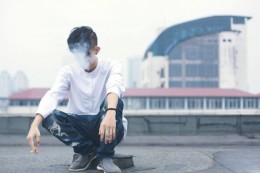 Without taking in exam my physical aspect (as it would already say everything about me), taking in exam my personality, I feel more careless than people of my age and I keep giving importance to things often important for people who are 14-17 years old. I am proud of being apparently more "immature" than other people of my age, as I can amuse myself by killing some stupid stereotypes: even if many people of my age look like "adult men" (even physically) and are nothing compared to early teens, when talking about me and my "still being a early teen" I am proud to remember my achievements, for example being a Google Top Contributor, to everyone who believes I am a failure only because I seem to be an ethernal child. I am the demonstration appearances should never be judged!

I am 20, and I love being what I am, I think there is nothing wrong in feeling younger than you are, so I invite everyone who feels younger inside like me (even if you are not 20, but a lot older than me), to be proud of this and to be themselves, without having fear of this. People who judge should be considered less than zero, especially if you achieved more successes than them in the early age!

I hope it will be the same for you!