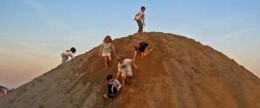 I suspect in primitive times strength was all that mattered.
The most "Alpha male" ruled the tribes. A "king of the hill" mentality has existed throughout mankind.
Even the vast majority of religions espouse men are to be the heads of the home. Of course it should be noted (men) wrote most of the religious doctrine.
There was a time where women weren't allowed to vote, go to school, join the military. Today not only can women do all of those things there have been women prime ministers in the U.K., the leader of Germany is a woman, the CEO of General Motors, Hewlett Packard, IBM, and Oracle Software are women.
We also have self made millionaire and billionaires that are women....etc Slowly but surly there has been progress.