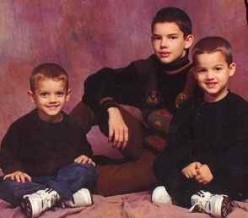 I see co-workers that are grandmothers holding beautiful babies and here I am with 3 grown sons and they are not even dating, well seriously anyway. And I joke around that if it comes down to it, I will PIMP them out. They laugh at me, but I'm 51 and no grand babies, is it too much too ask to at least meet someone?
And I will be working with a young girl, and I catch myself asking if she is married and how old she is.
You know who they call to go out? Each other! They go to races and stuff..,please! They need to find a good girl and settle down. They have good jobs...,see, I'm doing it again. I'm a Mom-Pimp.