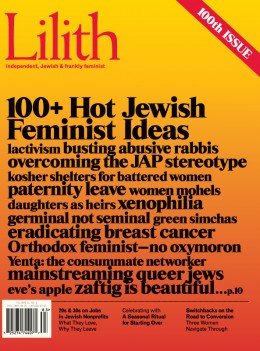 Lilith is considered the first jewish bitch: Remember Kramer's wife in the TV show "Cheers"? And there is a magazine for Jewish feminists called "Lilith"

Adama was made male/female - back to back which G-d split in half while Adam was awake. It was told that this grossed out the male half. Adam & Lilith argued about who was going to be on top during sex. Adam said, " I should be on top for I am made from the mud of Earth - while you were made of slime"

Enraged, Lilith went away and bore over a thousand children a day with demons outside Eden. Adam said, "Lord, the woman that you gave me has gone away." The Lord says - er - OK, I'll make you one that is more Subservient and put Adam in a deep sleep and made Eve from Adam's rib.

Later when the Snake said "Eat the apple", Adam's Eve who was a female made to do as she told - ate it. If Adam was't such a pathetic wuss who could handle a strong willed woman then perhaps the human race would have never been banished at all from Eden?

Lilith kills newborns during the first 7 days before circumcision. Clay bowls with spirals were used as a safety shield against Lilith. Modern urban myth says that these ancient spiral bowls can play just like a phonograph record....

For more info goto the medieval Jewish midrash which tries to explain contradicitons in the first five books of Moses - the only real bible.