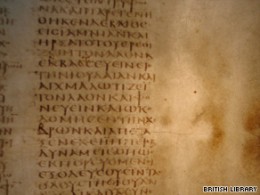 The Vatican has stuff it doesn't even know it has in their archives.

And since the Vatican doesn't seem to like the idea of outside people poking around we may never know though I heard they found part of an old Bible recently dating to early times of the church.

The oldest Bible (Codex Sinaiticus) is now restored digitally as well as it can be expected to be and is online... it differs from modern Bible translations in the story of the resurrection and includes extra books though most of the Old Testament is missing.

Many people don't know that the present Pope Benedict XVI was in charge of a rewrite of some of the Vatican rules among which changed the part saying Masons would go to hell to something a little more warm and fuzzy... now it says only that anyone partaking of Masonic rituals is in a state of sin and is to be denied the sacraments. Kind of a nicer way of saying Free Masons are going to hell.

By the way, there is no hell in the Old Testament. The word "hell" entered English translations and is not an original term found in the Old Testament. It's a medieval term for the word "grave" or "burial place". Hell is a concept derived from Islam and some vague concepts of the New Testament.

I'm working on a hub, almost done, of a history of the Bible.

What might change believers minds is knowing more about the history of the church instead of having blind faith.

For instance, Pope Leo X is usually believed the originator of the giant cake in which pretty ladies jump out... except in his parties, young naked boys jumped out for the entertainment of the guests. Pope Leo was notoriously gay.