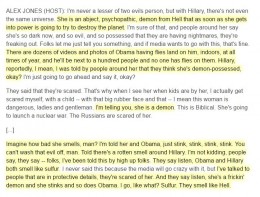 Without eyewitnesses or hard evidence of it you can not jump to that conclusion from comments in an email. Knowing that the Hillary campaign could care less where they get their money from these emails could just be evidence of pandering to potential donors.

There are people like Clinton friend and assassin Larry Nichols who claim Hillary is a satanist

https://fellowshipoftheminds.com/2015/0 … -satanist/

and if she is of course that would be a secret that she and her campaign chairman, long time friend and confidant, would have to share.

It is interesting though that in a Podesta email he says She's Acting Like A RETARD – She Smells Like Boiled Cabbage, Urine And FARTS'

The sulphur smell which is responsible for the stench of rotten eggs and dank farts is known to be an odor associated with demons, hell and the devil.