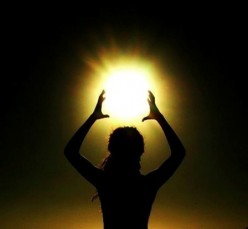 ENLIGHTENMENT IS THE goal of human life, for the individual and for the race. Enlightenment is awakening to the presence of God as the One in all and All-in-one and then expressing that nondual realization in every aspect of your existence. Simply put, enlightenment is God realization, i.e., making God real in the totality of your being.
What Is The Light Of Enlightenment? And How To Use It?
We've all heard of it. Many have seen it. It's the light seen in deep meditation – the "light" of enlightenment. To us it's a metaphor. "Seeing the light;" like "opening your eyes," and "awakening," are just figures of speech, but we're wrong here. Knowing the light's source you can produce it, and use it to guide your practice to meditation's highest rewards. Here's what you need to know.
What Is The Light Of Enlightenment?
A room can appear to brighten. "White light" has been reported. Enlightenment breakthrough has been described as "ten suns shining." Such light might seem mystical, even imaginary, but it's an actual sensation. What causes it?
What Causes Light Sensations?
The cause of the light is attention. How is this possible? Let me explain.
In eyes-open meditation (the 'open gaze' of Zen for instance), good attention holds the eyes still. This creates a fixed retinal image that uses up photo pigment (as in exposing photographic film), causing visual distortion in the form of light. Thus light has a physical cause, and more important, you produce it. You create light sensations simply by gazing at a spot with focused attention. It's vital to know that seeing the light confirms attention. This lets you monitor attention and guide your meditation. Based on these facts a highly efficient "feedback meditation method" has been developed. Produce and make use of the light and you're guided straight to your goal.