Are you Kaepernicking?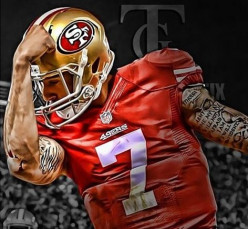 When the NFL season began Colin Kaepernick wasn't even a NFL starting quarterback. Now he's a sensation especially after Sundays spectacular performance against the Green Bay Packers. And the whole world is jumping on the Kaepernicking band wagon.

Will he take the 49ers to a Super Bowl win or will Atlanta stop the Kaepernick party.

Betting wise Atlanta is a three point underdog at home against the 49ers. Some though not all spors forecasters have said it will be 49ers 21 Atlanta 10.

A few have said it will be a big blow out with the 49ers winning 48 to 16 over Atlanta.

As far as I'm concerned I'm going to have to wait and see. But I will go out on a limb and say its going to be a close one with the 49ers winning over Atlanta 28 to 27.

What do you think.

Here's a cute photo below for everyone. It appears even the dogs are pulling for Kaepernick.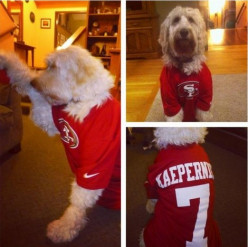 Do you think what Kaepernick did Sunday against the Green Bay Packers was a fluke or is he really that good. What do you think will happen in the 49ers vs Atlanta game this coming Sunday.