The first Sunday of the NFL regular season falls on the 10th anniversary of 9/11 and so to remember this tragic day, the NFL announced that all the games and broadcasts will recognize the 10th anniversary of 9/11 with synchronized pre-game salutes before all of its afternoon games. The football league will unite fans to recognize those who lost their lives, honor the families who lost loved ones, and salute the American spirit, the early responders on 9/11, and other heroes that contributed to the nations recovery.

All the games of the day will feature a video introduction followed by performances of Taps from near the sites of the attacks, and moments of silence. This marks the second time a 9/11 anniversary has fallen on the first Sunday of the NFL season since 2001. In 2005, the fourth anniversary of 9/11 also was on a Sunday.

NFL team coaches and the players will join local first responders in holding out a field-length American flag for the playing of the National Anthem before each game. All team members including the teams sideline personel will wear a special NFL 9/11 ribbon and all stadiums hosting games on September 11 will feature the ribbon logo on the field.

Sunday Night Football will showcase the Dallas Cowboys being hosted by New York Jets at MetLife Stadium and will feature additional special pre-game and halftime presentations.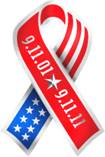 The official NFL 9/11 ribbon logo