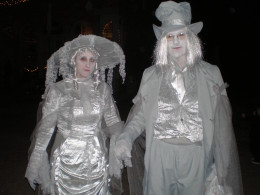 Keeping in mind that currently I am not attending any grand Halloween costume events, such as contests for cash or elaborate parties where you dress to impress, I go for something in between. Since my Halloweens are currently pretty casual I don't want to spend the money a store like Spirit charges for a generic vampire/zombie/witch outfit; but neither do I want to put time and energy and money into a creative costume masterpiece when no one will see it but me.

So I mix the two, re: make vs buy. I try to assemble something appropriately spooky from supplies around the house, such as an old black cape I found last year and wearing dark clothes or a skirt that looks like an old mystic might wear it. I may purchase accessories such as appropriate jewelry or a headpiece or mask, but I try to find them for discount prices - though without resorting to dollar store plastic masks!

I'm definitely more impressed by the people who get really creative or put a lot of effort themselves into making their costume unique and beautiful and/or scary and ultimately memorable.

But no matter how much you spent, how much time it took, what your resources were, and so on - if it came complete from a store, was a mix and match, or completely from scratch, then I appreciate you and your efforts. I get so much joy from seeing costumes that are worn with love for the holiday.