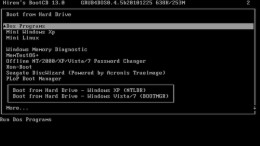 There are password reset programs. In this situation, you will have to use the a version that boots from a CD. In other words, once you have a password reset CD, you will boot up from it (they are usually Linux based) then use the password reset program that is usually selected from a basic menu to run. Most often they allow you to default the password to blank and others will let you change the password. I have not seen any that will show you the password.

You will need to borrow another computer to download and burn the boot CD. All this might sound a little hard to do but it is not. Once you have the boot ISO file, there are free utilities that will allow you to burn it to a CD. Windows 7 has burning capabilities in it already too so if you borrow a computer with windows 7, you just need to get the password reset iso.

I have used Hiren's Boot CD. It does not have to be the latest version. This CD contains many tools but the one you will select from the menu once you boot from it is "Offline NT Password & Registry Editor" . Once you select that option, you then select "NT/2000/XP/Vista/7 Password Changer". The rest will be self explanatory.

Keep the CD, you may need it again.....