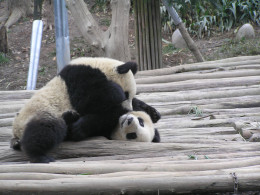 There are two places to see pandas in Chengdu - one is within city and its called the Panda Research Base and the other place is about two and half hours drive from Chengdu to the place called Ya'an.
On the way to Ya'an you can stop at the Leshan and see the Giant Buddha one of so many UNESCO sites in China. You can also visit one of the five holiest mountains in China called Mt Emei .
Within city centre of Chengdu you must explore one of so many tea gardens. In the evening check the Mask Changing Opera. Fascinating. Don't forget to try spicy aubergine. Delicious!