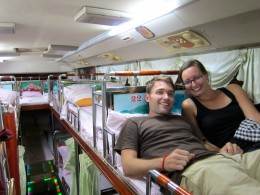 So I was preplanning a trip and heard about the long TSA lines. Bus is the cheapest and the sleep train is Waaaaaaay too expensive. So coming from
Tucson to Newark by plane
Skiplagged (air-horrible)
229 Newark Intl
41 Newark Intl - Poughkeepsie (bus seat)
270 TOTAL travel

BTW Newark Terminal is the dirtiest oldest hub, infamous for being disgusting

By Greyhound (because your age from lack of sleep that your hair will go gray!) - it all depends on the day:
From Benson:
119 jun 22 Wappingers falls
171 jun 10 Poughkeepsie

and a sleeper train is so booked so far out that that can't go on the spur of the moment for a family crisis:

Amtrak jun22 'sold out' @ CHI
Amtrak jun10 'sold out' @ CHI ALB
jun15:
sleeper =
1295 !!!!! yikes!
1313
1339


Skippedlag seems to be the one to go with if I ever needed to get there the fastest and cheapest. Awful reputation. United Airlines Orbitz Suing Skiplagged For Hidden City Ticketing

But I guess it is better to sleep on the floor of a terminal at the airport than to be jammed up for days on end in a bus and a sloshing bathroom. There are no sleeper buses in USA, but they are in other countries, where the roads are not as well maintained and so don't get any sleep from all the jostling. Plus have to buy 2 seats if want to sleep by yourself.