sort by best latest
If tomorrow wasn't coming I'd go back to bed and sleep in. Get up and have a hot shower, phone some family, send emails and then read a good book until tomorrow.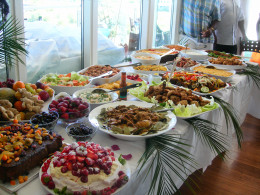 I'd try to get all my loved ones together, and with my 4 year old we'd cook up a storm (see pic of one of my legendary buffets). I'd tell each in turn why I valued them and I'd pray for a seamless transition into a beautiful afterlife. Towards the end I'd just spend the time quietly with my mother, husband and daughter reassuring and calming them - I'd also bleach the toilets.
mmmmm....tomorrow will come. I am always the optimist.