sort by best latest
I always take hot dogs. They are very easy to cook and enjoy out the wild. Its easy to take advantage of the campfire this way. Campfire steaks are also very good. Typically my camp food is kept very simple. I don't want to spend all of my time out there cooking.
I love camping, and I love eating... so I think I can help you out here. :)
Are you taking any cooking and cooling equipment? If you can keep food cold, you have more options... deli meats, eggs, pasta salad. Think high calorie food. Things can be cooked over the fire. I love throwing eggs, potatoes, cheese, and ham in a skillet over the fire for breakfast. You can also wrap things in foil - try potatoes and veggies with some garlic or something on top.
Staples can be snack/granola bars, homemade trail mix (get some mixed nuts, sunflower seeds, chocolate chips, etc on your own because it's cheaper), fruit, and pb&j sandwiches.
Hope this helps!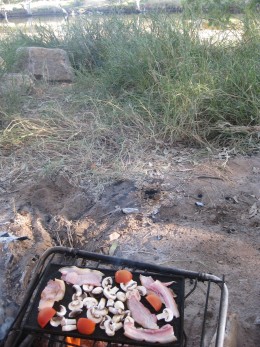 Depends on if you are taking a fridge or not . Make sure you have fruit ,Salad, we usually have at least one breakfast of bacon & eggs ! Bread for toast on the fire & toasted sandwiches . Marshmallows for on the fire . Ingredients for a stew or casserole , And a damper !