sort by best latest
Best Answer Annsalo says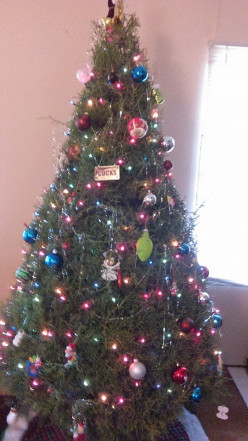 We ALWAYS have a real tree, and I don't feel a bit bad for cutting down a tree to sit in my living room for a month to die. Each year we have a tradition to plant a Leyland Cypress and we only buy from local growers who make a living growing more trees to replace the ones that are cut down.
Nothing is like walking into the fresh smell of beautifully lit and decorated tree. Real trees are also more full and fluffy looking than fake trees. We always make sure the grower uses a shaker to shake out any creatures who might be held up in it.
When I was growing up there was always a fake tree so I decided until all of my children are teens we will continue the tradition of going and picking out the perfect tree as a family, cutting it down ourselves, carrying it home and decorating it all together. Memories that just can't be replaced. I love it.
The idea of having a real tree is charming, but I could never have a real one, not after my pastor told a story of a Christmas tree he brought home. He had the tree several days before he noticed it was infested with spiders. In his words, "I sat in my chair looking at the tree and I noticed it was moving." There thousands of baby spiders, perhaps just hatched, living in the tree. It makes me shudder just thinking about it.
That said, the biggest benefit to owning an artificial tree is you can use it for several years in a row, saving a good deal of money.
I don't like the idea of killing a tree to stick it in my living room for a couple weeks. Spiders are another good reason for "the tree sculpture" as my son calls our fake one.. Plus the fake one is flame resistant. Real ones go up like a match..

---