sort by best latest
I am a Christian, and do not find those sources credible, Lolita. This is why I am asking for specific citations/facts. Kind of like Trump saying 'thousands of Muslims celebrating" on 9/11...where are the facts and citations? Simply saying 'I saw it' or 'Other people back me up in seeing it' is not FACT.
So if you saw a tree fall in the forest and you were the only one there, would not your experience watching it fall count as fact to you? Would you need citations? Suppose someone moved it away and no one believed you? Would you then be wrong?

---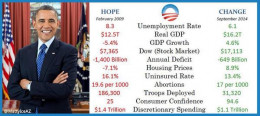 Lower unemployment, increased GDP, healthier stock market, reduced deficit rates, revitalized housing markets, lower rate of uninsured citizens, lower abortion rates (despite being more readily available), fewer troops being sent to fight pointless conflicts, and a healthier economy? Oh yeah, Obama sure is out to destroy us all. Lemme tell ya.
It should also be interesting to note that I had neither a job nor health insurance back in 2008, and I have both of those things now (and the latter I get for free!). Sounds like a net positive to me.
1 answer hidden due to negative feedback. Show
1 answer hidden due to negative feedback. Hide