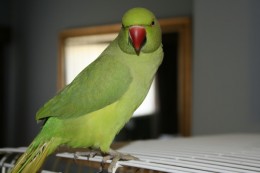 In a short space of time, I have attained my life long wish and recieved a Indian Ring Neck two years ago, Goompy by name, you can read about him in my Hubs, of which their are several.
Well he became a magnet and pretty soon we were given another Ring Neck, from someone the Wife works with who was for various reasons unable to keep her/him, as he/she is still a juvie, called Gizmo fro th Gremlin movies.
Then earlier on this year we were asked to take in a Juvie African Grey, Graham , whose owner faced eviction if she carried keeping the parrot who was very raucous during the day, so we grew to 3 parrots and love them all.

Now Goompy will go to fingers and every where else, Gizmo will climb on shoulders, then move around. Graham is still cautious and wont go to hand or shoulders, as I think in his 2 year existence has had 2 previous human companions, so he is very wary still.