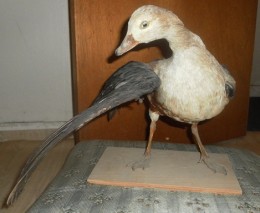 I used to do a bit of taxidermy which involves preserving the hide but tends to leave it quite hard rather then pliable. The way I was taught was
1) Pin out the hide on a board. You could use a hammer and 4 nails to do that with. 2) Scrape all the fat from the hide, perhaps using a palette knife.
3) Rub in borax all over the skin side of the hide. Borax can be brought from the pharmacist in the UK (don't know about the rest of the world).
4) Keep applying the borax daily until the skin is dry.
It certainly works, I used it on anything from a European starling to a badger, so I'm confident it would be effective for a goat hide too. The photo is a taxidermied Orinoco Goose which was treated in the way described 40 years ago, by my taxidermy teacher, so you can see how well it works preserving the skin - I can assure you it doesn't smell at all, once dry, either.