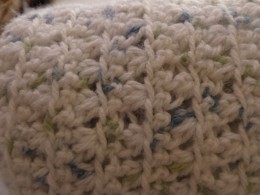 I am also in the midst of crocheting a baby blanket but it is not an afghan so I am sorry to say that I am probably not much help - I would love to see it when you are done though, as I am not sure if you are referring to the construction of a star within the afghan square or if you are creating a star shaped baby blanket. Here is a video that demonstrates starting a 5 star:
http://youtu.be/WvlOZK7L7Ds
I am making a baby blanket that uses the cluster stitch to give a 3D effect, the pattern has about 55 rows not counting the edging, maybe I will do a blog if I like the way it turns out.
Best of luck to you!