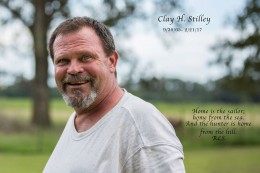 You have two eyes. The camera has one (the lens). The camera does what the photographer programs it to do. It does not see or interpret as your brain does. If you capture someone photojournalistically (shooting without coaching- just capturing the moment) then, you might catch someone laughing and not see the pain in their eyes. However, if you pose someone, and tell them to smile- then, if they look directly into the camera, you can capture micro-expessions and pain in their eyes.

In this photo my brother told me that he didn't have much longer to live. He refused to go to a doctor. I told him, "Then let me get a shot of you because you know that I am going to need it." I snapped the shot, hugged him and cried. Does he look like a man that is about to die? He did die about 6 months later.

So, the "truth" cannot always be caught in a millisecond. Think of how fast a shutter can snap. If I shoot 1/125 that is 1/125 of a second. That is fast, and there are faster speeds. So, photos tell what happened in that moment. That little moment is frozen in time, and we have no idea what the subject is thinking. We can only read facial expressions and assume. The real truth lies within the subjects' head and heart.