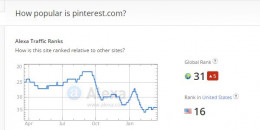 Pinterest currently ranks 16 in the US and 31st in the world according to Alexa. The "pay as you play
for Pinterest's business model is pivotal because it affects the stocks PE (price earnings ratio) and Pinterest cannot issue an IPO (initial public offering) without a solid revenue stream.

To quote a market expert who succinctly summed this up:
"..companies with sky-high valuations 'must continue to put off their IPOs, while they try to 'grow into the valuation' and pray they can IPO in the near future at a nice return to investors'."

The new plan which Pinterest has labelled "promoted pins" is not yet launched but there is a sign up sheet on their website. Currently, the promoted pins will only be available to US based businesses.

Pinterest (amazing Alexa ranking - top 20 in the United States - wowza!) is a popular website and this is a lucrative opportunity which can be a game changer in the world of virtual advertising.